Dobijem danas poruku sledećeg sadržaja
FBteam Kenneth mart 15 u 11:57 po podne Prijavi
FROM: THE DESK OF THE MANAGEMENT OFFICE,
FACEBOOK SWEEPSTAKES PROMOTION
REFL2/209318/09
BATCH:18/103/HME.
Dear:Sir/Madam,
Congratulations! You have been awarded £250,000.00GBP (Two Hundred and Fifty Thousand Great British Pounds)in the FACEBOOK SWEEPSTAKES PROMOTION as Facebook celebrate this year's anniversary.
To begin claims procedures, you are to send your; Name, Email Address, Street Address, Country and Telephone Number to FACEBOOK PROMOTION OFFICE E-mail Address:
[email protected]
Tele: +447024035247
Once again the Management and Staffs of FACEBOOK Congratulate you for being among the winners for this year's draws.
Warm Regards.
Facebook Team © 2011
:)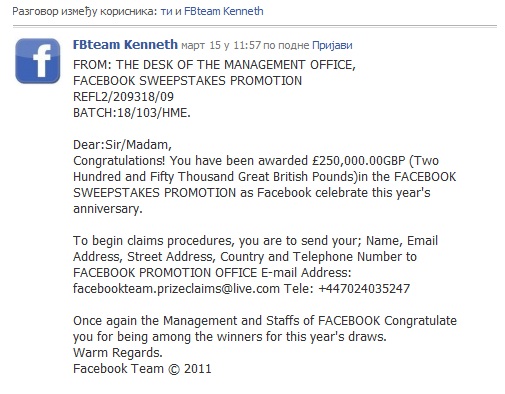 ---